Become a Sponsor
The Pacific Northwest Water Research Symposium is a two-day symposium where students and professionals can connect with one another over their shared love of water. The symposium offers interactive learning opportunities through workshops, networking, and presentations of current student research in the fields of water resources science, engineering, and policy. Graduate and undergraduate students from universities in Oregon, Washington, and Idaho have the opportunity to share their research to a diverse audience through oral and poster presentations to a diverse audience. The Oregon State University Hydrophiles student group invites you to attend our conference.
 We value making the symposium accessible to a diverse group of students and professionals. In order to do so, Hydrophiles offer the conference at no cost to attendees, which requires the support of generous donors.  
 We invite you to become a sponsor to the seventh annual ​Water Research Symposium​, held April 23rd and 24th, 2018.
 Your support will foster the success of the following activities at this year's symposium:
Oral and poster presentations on freshwater resources research conducted by students
Facilitation of professional skill-building workshops
Afternoon networking reception
Keynote speaking event
Event space and catering expenses
Included below are instructions for donating to the Pacific Northwest Water Research Symposium. If you are interested in joining us or have any questions about donating, please contact us at HydrophilesResearchSymposium@gmail.com.
 Sincerely,
 The Oregon State University Hydrophiles
To become a symposium sponsor:
1. Please identify the sponsorship level of choice below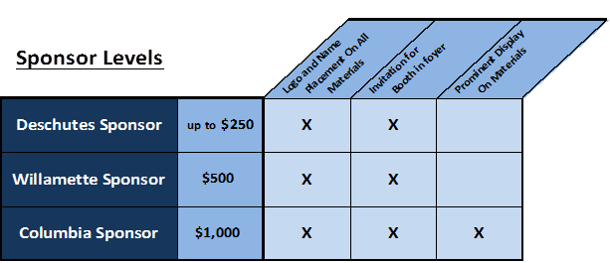 2. Then click on the  preferred  method of completing the donation for further instructions.  If you have any questions along the way, please do not hesitate to contact the Symposium Planning Committee.