Symposium 2016
2016 Symposium Schedule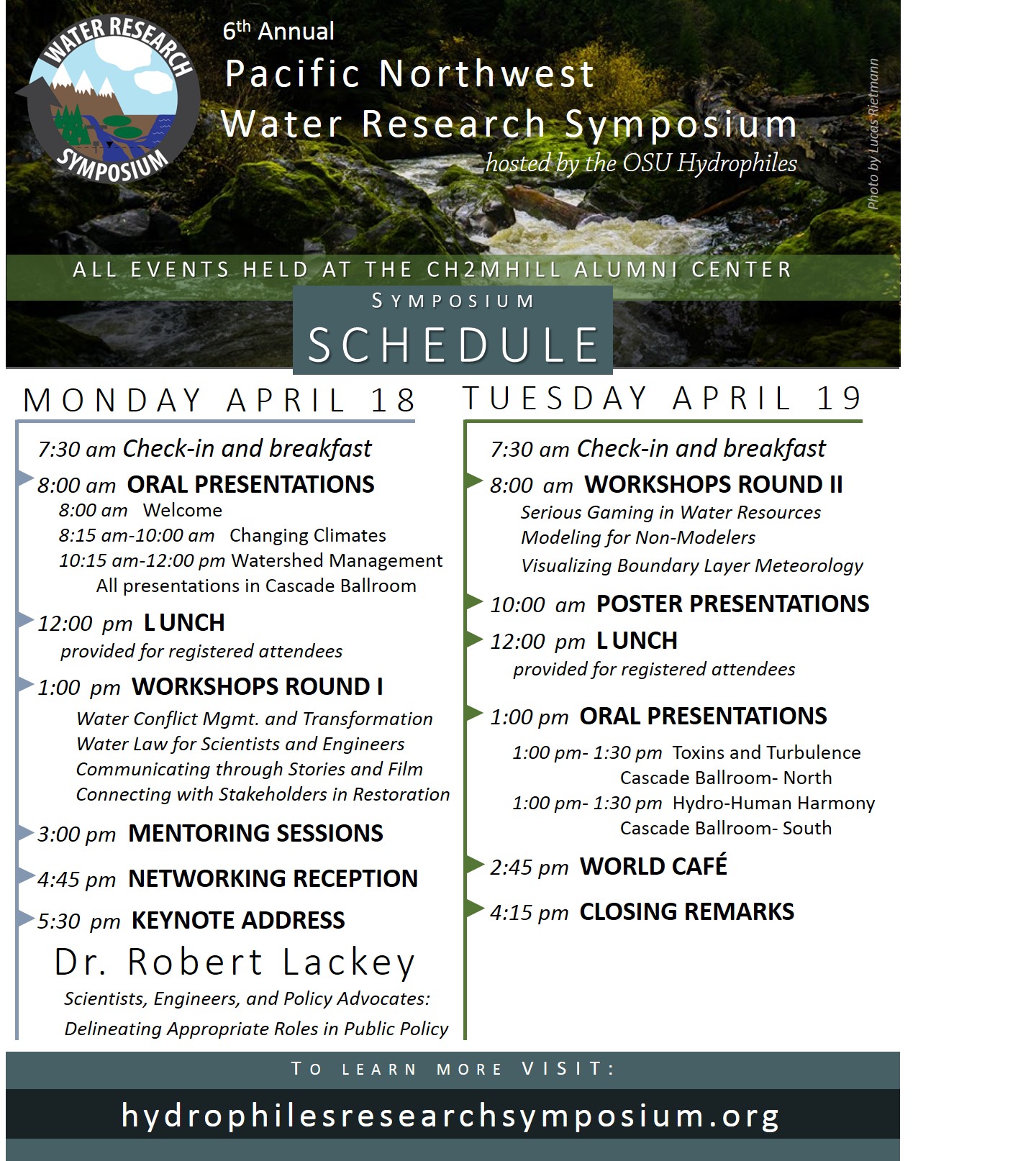 2016 Workshops
Brian Kelley

Multimedia Producer with

The Freshwater Trust

Communicating Science through Stories and Film

Often the label of scientists evokes discussion on the inability of those in academic fields to communicate their research creating a divide between the work being done and that work being compelling and integrated into on-the-ground decision making.  In this age where photos, videos, podcasts, and 160 character tidbits are "worth a thousand words", the art of crafting a story becomes a powerful tool that can make a significant difference in forging collaborations, conveying information, and motivating diverse audiences to "come to the table" for decision making.

Brian Kelly brings years of diverse photography and videography experience to The Freshwater Trust as their Multimedia Design Coordinator. Prior to joining TFT, Brian worked on environmental documentaries ranging in topic from Wolves to Coal Ash dumping.  He has received three regional Emmy awards, holds a bachelor's degree in environmental science from Gettsyburg College and a master's degree in film and electronic media from American University.

 

 

Laura Schroeder

Water Law Specialist

Schroeder Law Offices, PC

 Prior Appropriation: Water Law Through History & Story

If you are looking to gain a stong foundation in navigating water law in the west, this workshop is for you!  Western water law is founded in the history of settlement and development of the West. This workshop will explain the water supply law fundamentals using stories from history and actual cases and how the prior appropriation doctrine developed as the backdrop for water law in Oregon, Washington, Idaho, Nevada, and California.  The goal of this workshop is to gain a better understanding of evolution of western water law and how it is applied and practiced today.  If you want to get a good foundation on navigating water law in the west, this workshop is for you. 

Laura Schroeder is an Oregon native, born and raised in the small agricultural area of Vale, Oregon. She earned her B.A. in 1972 from the University of Oregon and her J.D. in 1987 from Northwestern School of Law, Lewis & Clark College. She practices law in the states of Oregon, Idaho, Nevada, and Washington. Dr. Schroeder began her private practice with her father, William F. Schroeder, in Vale. She started her own firm in 1991 to serve the needs of her clients involved in water resource matters. Laura's practice includes representing businesses and municipalities, in transactional and litigation matters, Dr. Schroeder's practice includes water rights acquisitions, sales, contracts, easements, well share and water delivery agreements, adjudications, permitting, extensions, transfers, certification, regulatory compliance and litigation of water rights disputes before state administrative bodies as well as State and Federal trial and appelate courts. 

 

Mathias Perle

Project Manager

Upper Deschutes Watershed Council

 Engaging Stakeholders in Restoration: Stories from the field



The Upper Deschutes Watershed Council, Deschutes River Conservancy, the Deschutes Land Trust, state and federal agency partners and the larger community of stakeholders have been working together over the last 10 years on a watershed scale approach to restoring Whychus Creek, a tributary to the Deschutes River.  This approach to restoration will be presented as successful model for engaging stakeholders and the community as a whole to support watershed scale restoration efforts.  Specific projects and examples will be used to highlight key factors to help ensure stakeholder engagement.  





Mathias Perle is the Project Manager for the Upper Deschutes Watershed Council. Perle has a diverse background in project management in environmental and water resource consulting. He has worked with Newton Consultants, Inc. concentrating on forming strong ties with Deschutes Basin stakeholders and implementing projects in water resources, conservation and groundwater. Mathias holds an M.S. in Hydrologic Sciences and an M.S. in Civil and Environmental Engineering both from the University of California, Davis and a B.S. in Geology from the University of Delaware.

 

Aaron Wolf

Professor of Geography, OSU

 

Water Conflict Management and Transformation


From the Klamath basin in the Pacific Northwest to the Jordan River in the arid and hostile Middle East, water conflicts are inherent and increasingly disruptive. Water which crosses boundaries - be they economic sectors, legal or political jurisdictions, cultural divides, or international borders - sets the stage for disputes between users trying to safeguard access to a vital resource, while protecting the natural environment. Without strategies to anticipate, address, and mediate between competing users, intractable water conflicts are likely to become more frequent, more intense, and more disruptive in the American West, the United States , and around the world. This workshop examines ways to work effectively in contentious water situations and explores conflict tolerance, prevention, management, and transformation through collaborative structures as well as through models of negotiation and dialogue.

Aaron Wolf is a professor of geography in the College of Earth, Ocean, and Atmospheric Sciences at Oregon State University. He has an M.S. in water resources management and a Ph.D. in environmental policy analysis from the University of Wisconsin, Madison. Wolf has acted as consultant to the U.S. Department of State, the U.S. Agency for International Development, the World Bank and several governments on various aspects of international water resources and dispute resolution. He has been involved in developing the strategies for resolving water aspects of the Arab-Israeli conflict, including co-authoring a State Department reference text. Wolf, a trained mediator/facilitator, directs OSU's Program in Water Conflict Management and Transformation.

---

 TUESDAY WORKSHOPS ROUND II: 8:00 am-10:00 am CH2M Hill Alumni Center

---

 

John Bolte

Professor and Department Head of Biological and Ecological Engineering, OSU

 

Modeling for Non-Modelers

Computer based numerical modeling has become an invaluable staple for so many realms of natural sciences. From global climate change to epidemiology, models aim to capture the complex interactions of the natural world around us.  They have become so commonplace that it is easy to accept model results as cold hard fact.  It is quite difficult to keep in mind the underlying assumptions and limitations involved in modeling something as complex as the global climate, particularly if you have had little to no training with models. In this workshop, Dr. John Bolte aims to clear the air a bit for non-modelers. Dr. Bolte will address the most basic questions: What IS a model? What can and can't you say about model results? Should we base policy decisions on model output?

Dr. Bolte specializes in mathematical modeling and simulation of agricultural, aquacultural and environmental systems, geographic Information Systems-based spatial modeling, and artificial intelligence applications in bioresource management. His current research in conjunction with the Climate Impacts Research Consortium includes exploring interactions between agriculture, urban land use practices, and recreational activities under future conditions of climate and water supply in the Big Wood Basin in central Idaho, exploring the impacts of climate change-induced sea level change, population growth, and development may impact coastal communities in Tillamook County, Oregon, and how Knowledge-To-Action Networks can be developed to mitigate and adapt to change. Other research includes the Willamette Water 2100 and the Central Oregon Forests, People, and Fire projects.  Dr. Bolte received his B.S. in Plant Science at the University of Florida and earned his M.S. in Agricultural Engineering and Ph.D. in Agricultural Engineering at Auburn University in Alabama.

 

 

Todd Jarvis

Director of the Institute of Water and Watersheds, OSU

 

 Serious Gaming in Water Resources



Serious games are useful because they provide a structured environment in which learning and research can occur. "Serious games" in water resources come in many forms ranging from role plays, board games, and computer-based interactive, realistic virtual environments in which players attempt to simultaneously "juggle"various aspects of integrated water resources management (IWRM), only to learn that IWRM is easier said than done.





Oregon State University is the only US institution participating in the UNEP-DHI Eco Challenge 2016. Come play Aqua Republica developed by THE ACADEMY by DHI, or try your hand at one of the many water resources board games we are using for negotiations training in water resources.





Todd Jarvis has nearly 30 years of experience as a hydrogeologist specializing in groundwater development and source water protection with emphasis in fractured rock and karst terranes. Jarvis has professional licenses as a Certified Engineering Geologist and Certified Mediator, specializing in transboundary aquifers, water conflict resolution, and education in water science and policy. Jarvis is a member of the faculty of the OSU Water Resources Graduate Program and served on the Oregon State Board of Geologists Examiners from 2011-2014. 

 

Chad Higgins

Assistant Professor- Department of Biological and Ecological Engineering, OSU

Visualizing Boundary Layer Meteorology

Distributed Temperature Sensing (DTS) has the potential to detect fine-scale changes in the lower atmosphere. DTS uses fiber optic cables to measure temperature at unprecedented spatial and temporal resolutions. This novel technology has proven applications in stream ecology, groundwater hydrology, limnology and oceanography. Now, Dr. Higgins is taking this fiber optic technology to the atmosphere as well. The end goal of this approach is to measure fluxes of heat, moisture, and momentum in the lower atmosphere. In this workshop, Dr. Higgins will demonstrate how this technology is implemented and allow participants to experiment using DTS to interact with a scale model of the lower atmosphere.

Dr. Higgins serves as the Associate Director of Water Resources Engineering and the Head of the Nexus of Energy, Water and Agriculture Laboratory.  Dr. Higgins' current research includes probing the spatial characteristics of atmospheric water vapour, the effects of land surface variability on fluxes through the soil-plant-atmosphere continuum, and developing new instruments to measure evapotranspiration from agricultural fields.   He earned his B.S. in Agricultural and Biological Engineering in 2000, then completed his M.E. in Mechanical Engineering at Cornell University, Johns Hopkins University where he also received his Ph.D. in Environmental Engineering.

 
2016 Presenter Schedule